We made a lovely paper lantern, as mumma promised me last week. We bought colourful papers and ribbons from the market and made three lanterns. One I will hang on the main entrance, one in mumma and dadda's room and one in my room.
Mumma searched the Internet and copied the instructions. It was quiet easy. If you want to make paper lanterns too, for decorating your home, here is how you can make it.
For making the paper lantern you will need – construction papers, quick dry glue, scissors and strings.
For the Outer Part:
Cut out a rectangular shape from an A4 sized paper. Fold it rectangular paper in half lengthwise. Put marks at ½ inch intervals on the paper. Then cut 3/4 of the way up the paper along the marks. This will fringe the entire paper lengthwise. Now open the paper and bring the ends together. Stick the ends with help of the quick dry glue and set aside. I used red, blue and orange coloured papers to make three such fringed papers.
Now take another A4 sized paper, preferably of a different colour. I used a white coloured paper for all the three. Now glue it lengthwise so that it makes a thin cylinder. Let the glue dry.
Now place this thin cylinder inside fringed papers. Push the top and bottom ends of the fringed paper towards the middle of the cylinder. Put glue to hold the fringed paper in place. Cut thin strips of coloured papers and cover the visible white portions of the cylinders.
Attach a string to one end of the lantern and it is ready to be hanged! I added some colourful ribbons to the other end of the lantern to make it look even better. You can stick decorative stones, ribbons, stickers or anything else to make the lanterns look good. This is how the lanterns will look: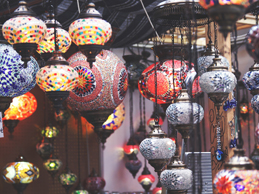 hese lanterns and place candles inside it to give a different effect. You can also light up tiny lights and place inside the lanterns. You can make lanterns of different sizes and hang them inside and outside your house. If you want to make other types of lanterns, you can do an Internet search and learn how to make other types of lanterns.
You can buy ready-made ones from the market, but mumma says it is always best to make things yourself. It makes you feel proud and increases your creativity. I will save these for Christmas as well.
I just got one idea! I will make a lantern and cover up the bottom and fill it with chocolates for my friends. I will place it right next to the main door, so that whoever comes to our can eat some chocolates. Isn't it a good idea! See this is why mumma says, you need to try out creative things. You can come up with new ideas and make yourself and others proud!