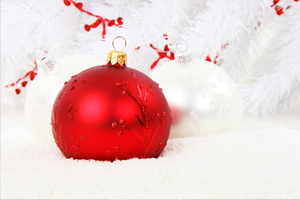 Have you started decorating the Christmas tree? Decorating the Christmas tree is one of the most exciting things during this time; I was so excited when I visited to local Christmas market. Christmas trees of various sizes, a wide variety of decorative items, goody bags and a lot more. It looked so colourful that I wanted to buy everything I saw. We bought a lot of decorative items and a big Christmas tree. Dadda would help us decorate the tree during the weekend and our house will be all set for the Christmas!
This year we wanted to decorate the Christmas tree in a new way, so we did some research on the Internet. There were a numerous Christmas tree decoration ideas, but not all were impressive. I loved a few and I would love to share them with you. Here are some unique Christmas tree decoration ideas that you can try this year:
The Santa Look-Alike
Decorating the Christmas tree in St. Nick's style is very unique and I haven't seen too many people decorate the tree this way. Decorate the entire tree with white and red ornaments including candy canes, Christmas balls, stars, bells and ribbons. Cover the entire tree with lighting and top it with fur-trimmed hat. Place the Christmas tree close to the fireplace and hang some Christmas stockings on top of the fireplace. Place a bunch of poinsettias to enhance the look. I will decorate my Christmas tree this way and I am sure our guests will love it.
Here is how the Christmas tree will look after decorating it.