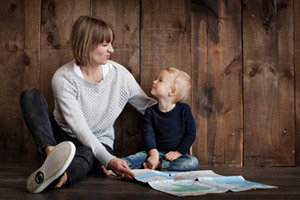 Our teacher told us that we will have a guest in our school who will be talking to us on various topics that will help us grow and become aware of our society. She said there are good things and bad things that we need to know about so that we can protect ourselves and those who we love.
A lady arrived about an hour later. She was very tall and beautiful and wore a very pretty dress. We greeted her as she entered our class and asked us to introduce ourselves. Everyone in our class took turns to introduce themselves. Then she said we'll talk about something very important today. She asked, 'how does your mom or dad show their love towards you?'
One of my friends said her dad kisses her on the forehead, when she does something good. I said, mumma gives me a tight hug and someone else said he gets a pat on his back. The lady listened to everyone and said, so you like the way your parents show their love towards you; but have you ever felt bad when someone touched you? No one replied.
Then she continued, "Today we'll talk about 'Touch', the good ones and the bad ones. A kiss or a hug from your mom, dad, grandma or a friend makes you feel happy because they love you, so this is a 'good touch'. But there can be situations when someone touches you and do not feel good.
This is known as bad touch. As you are growing up, you must understand the difference between a good touch and bad touch. Anything that makes you feel uncomfortable, ashamed or painful is a bad touch. If you ever feel like this when someone touches you, you must talk to your teacher, mom or dad immediately.
Remember, people who make you feel like that are not good and you need to stay away from them. But since you are small you may not be able to do it alone; you need your parents or teachers to help you get rid of the person".
She added that it is perfectly alright to say 'NO', if you feel bad about a touch no matter who it is. Remember, you might feel about something who is close to you, but that should not stop you from protesting. You have complete right over your body and nobody can force you into doing something that you do not like.
This is true for both girls and boys. You are all growing up and will have to confront a lot of people; some will be good while some might not be as good. So you need to stay alert.
All of us listened to her carefully. I had a lot of questions to ask but I decided to talk to mumma about this. She will understand my questions better and give the right answers. I was eager to go back home and give mumma a tight hug. The session ended soon and we were all released from school for the day.