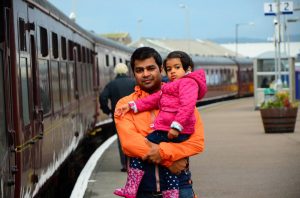 Mommy and Daddy both love to travel.I also love to travel with them. Mommy says travelling is good as it enriches your knowledge and experience. It helps you to see and learn a lot of new things. It lets you see the world from different perspectives and different angles. You get to learn and experience various ways of living. You get to eat various fresh and original foods from all the corners of the world. It is a good way to take a break from the monotonous, routine life and make your life more exciting and adventurous. Travelling makes you experience your life in a more beautiful and effective way.
Here is how travelling helps us in experiencing the life's beauty:
1. You get to see a lot of new places: Travelling is a pleasant way to explore all the new places. You get to experience a lot of new dimensions in life. You feel good from within when you get to see the beautiful places around. You start admiring the beauty of nature as you get some time to rest, relax and feel the nature.
2. It broadens your horizons: Travelling broadens your horizons and you start to learn and accept new perspectives of life. It makes you more confident and equips you to socialise and interact properly with people with different languages from different countries. Travelling fills you with a lot of happiness and positivity.
3. You become more adaptable:  beyondgadgetsandTravelling lets you get exposed to various climatic conditions and environments. It also makes you more adaptable towards various circumstances in life. You become more receptive towards all kinds of situations and accept life as it comes to you. You also learn how to handle various new and unexpected situations in life with a whole lot of positive attitude beyond gadgets and
4. Learning books:You get to learn from nature instead of learning from gadgets, books. You learn from various places, people and different circumstances and situations. The best part is you explore and learn while enjoying the fresh air, the beautiful nature, various architectural structures, new foods and the lovely people you come across on your journey.
5. Break from the routine life:Travelling gives you a break from the routine life.Nowadays, people remain so busy with their own routine work and do not get to spend time with the family members at all. So, if you travel with your family, you get to spend a lot of time together, you enjoy the company of each other. This helps you to bond with your family members in a stronger and more effective way.
Mommy says that those children who travel, they come up with new ideas on how to plan for a project and then they learn the best way of implementing those ideas to get better results. Travelling is always fun, it fills your life with a lot of happiness and positivity. Your life becomes more happening and exciting while you travel to various faraway places, meet new people and eat the tasty and sumptuous local cuisines.