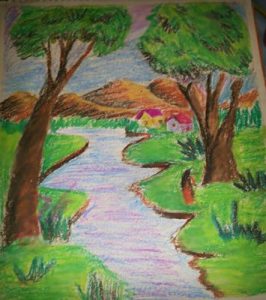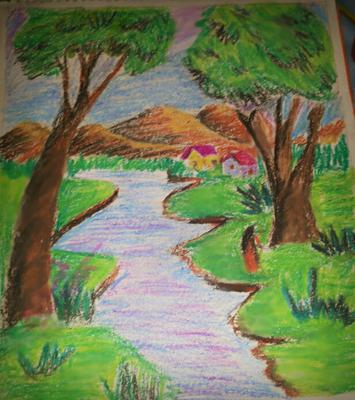 In the past few days, I have only discussed with you all about my experience, suggestions that Mommy and Daddy gave me and also about some do's and don'ts that a kid must follow. But today I will share with you about my hobby. Everyone has different kinds of hobbies such as gardening, reading, singing, writing etc. My hobby is painting. I love to spend my free time painting various forms and shapes with different colours.

In my childhood days:

Painting is one thing that I love to do in my leisure time. Mommy always tells me that when I was akid I used to scribble on the floor or on the walls with a pen or a pencil. As I grew older my parents sent me to a school where I have learned a lot of thingsabout drawing and paintings. Day by day, I developed my interests in painting. My parents brought colour pallets, oil colours and paint boxes as they saw my interests in painting.
The prizes I won:

The painting competitions that I had participated in, gave me a lot of self-confidence. And the prizes that I won encouraged me to do more. My love for painting grew more from that day when I won the "Best Painter Trophy – Junior" for my school in an inter school painting competition. I was overwhelmed with joy.
The encouragement from my teachers:

My teachers always encouraged me. I got some special training for honing up my skills in painting. The teachers praised me and showed me ways, how I can improve my work. They all liked my sketches and they also made corrections on the technicalities of my sketches.
Kids Painting exhibition:

My teachers were so amazed by my paintings that they told me about the "kids painting exhibition" which is held every year. They told me to display my sketches and my color paintings. It was the best experience that I have up till now. And will never forget about that day when people praised my paintings so much.
Words of my Father:

The first painting competition where I had submitted my work, my paintings got rejected. I was disheartened, but my Daddy never lost his hope on me and he told me that day, "Veerica, remember that failure is the pillar of success. So, never lose your hope and just try for doing better in the future". From that day, I try to focus more on the work I do so that I can create something new.
Sometimes, hobbies can become the passion for your life. Daddy tells me that everyone should spend some time in nurturing their hobbies. He also told me that if we pursue our hobby with determination and dedication, one day we will know that it has become our passion. Painting made me learn many things such as time management, improved my concentration and helped in imagining about all new things. It also taught me a lot about how to manage everything so tactfully. Painting makes me happy.