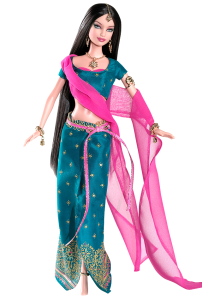 I have a little toy house. In that toy house, I have Barbie dolls, Mickey Mouse, small toys and many such things. Of all the toys, I love to play with my sweet little Barbie doll. Daddy gifted me the doll on my last birthday. It is the most beautiful toy that I have got on my birthday. Since then I sleep with my Barbie doll. Also, I don't get scared at night because of her company. Now I have a friend at home, who always accompanies me wherever I go. She has become a part of my life without whom I cannot think of spending time at home. The only time I leave her alone is when I go to school. Once, I thought that I will take her to my school but Mommy told me that dolls are not allowed to sit in the class rooms.
About my Barbie doll:
My Barbie doll is a dancing doll which dances whenever I switch on the musical button. She always dances on the song "I am a Barbie Girl in the Barbie World". Even she closes her eyes when she sleeps and opens her eyes at sharp 5 o'clock in the morning and tells me "Wake up, Wake up, It's time for a morning walk".
Her Dresses:
She wears very attractive and gorgeous dresses that makes her more beautiful and cute. She has five sets of dresses: a party wear, a night suit, a t-shirt, summer wear, and winter wear or the woolen dress that my grand mom made for her. I love all her super cute dresses. She looks so pretty in those.
Shoes:
She has a matching pair of shoes with all her dresses. I love her party shoes which are like that of Cinderella'sglass shoes. She has got all lovely shoes. When I play with my doll, I like to dress her up like the way I want.
Hairstyle:
When daddy bought this Barbie doll and kept her in my toy house, she had straight hair but I changed it as I didn't like it then and I gave her a new look. I made front curls that enhance her beauty and made the back portion of her hair wavy. I love to play with her whenever I get a little free time.
I really love my Barbie doll. I love her very much. I share my everyday stuff with her. Her company makes me feel that I have a friend at home, who is always there for me. She always listens to me patiently and blinks her automatic operated eyes. I tell her many stories at night before sleep. I tell her about my school friends. Her expressions make me feel that as if my friend is listening to me. Even her silence tells me many things that cannot be expressed by anybody else.
Since the time Daddy brought her home, I spend all my free time with her. She has become my best friend since then.