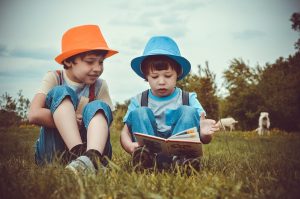 My Mommy always encourages me to read story books. She tells me that we can get to know a lot of new things through books. I also love to read books especially when they come with beautiful pictures on them. I start imagining so many things when I read a book. There are also times when Mommy reads me stories during bedtime. However, Mommy tells me that reading has a lot of benefits and there are mentioned below.
 Reading aids in brain's exercise – It helps the brain to strengthen its connections and also build new connections.
 Reading helps in improving the concentration level – As reading makes the child sit at one place and focus on the book. This way, they will form a habit of reading for a longer span and also focus on things for more.
 Reading helps in knowing so much – When you read a book, you get to know so many new things. Reading opens up a whole new horizon where a child gets to learn as well as improve their imagination skills.
 Reading helps in increasing vocabulary – When you read books, you automatically improve your vocabulary as you keep learning new words while you read. This eventually helps you in having a better language skill.
 Reading is a lot of fun – Reading is a great way to spend time effectively and, in a lot, a positive way.
As I read new books, I also share my books with my friends. And, later we discuss the book, share our opinion about
the characters in the book. This is a lot of fun when I and my friends discuss books. I also borrow books from my friends and they also suggest me new books based on the kind of books I prefer to read. Then there are books which I just read to gain knowledge. I also go to our school library to get new books and read them after school hours or at home during weekends.
I have a lot of books in my house. Here, I am mentioning a few:
• The Very Hungry Caterpillar – by Eric Carle
• The Hunger Games – by Suzanne Collins
• Harry Potter and the Philosopher's Guide – by J k Rowling
• Charlotte's Web – by E B White
• Frog and Toad are Friends – by Arnold Lobel
• Charlie and the Chocolate Factory – by Roald Dahl