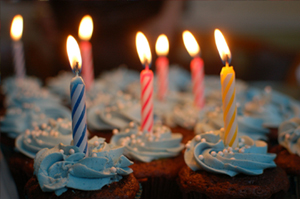 This weekend, it was Lisa's birthday and all our class friends were invited to her house for her birthday party. We all went with our parents too. We enjoyed a lot in the party. We were given a separate room to play games and chat with each other, while the parents were at the hall. We played many games such as Barbie dress-up game, disco down, car racing and many such games.
Barbie Dress-up Game:
Lisa has a beautiful Barbie doll, so we decided to play with it. We made a Barbie house with cardboard and then mounted it with colourful papers so that we could give a classy look to the Barbie house. Then we made Barbie's hair, Riya made a beautiful hair style and then we all dressed up the Barbie with a beautiful red gown. It was slightly long and loose fitting so we adjusted it with pins so that it looked perfect for our Barbie. Then we played many songs and we danced with the Barbie. It was a good game and we enjoyed a lot playing with it.
Car racing game:
We also played with cars. Lisa has a wonderful collection of remotely operated cars. Some were mini BMW, Audi, Chevrolet, Mercedes and much more.It was Riya's idea to play car racing. We started by making some tracks on the floor and then we raced our respective cars against each other. It was fun as everyone was trying to reach the destination mark before anyone else.
Cake cutting:
We all went to the hall so that Lisa could cut her birthday cake. It was a huge pink Barbie cake. It was nicely decorated with stars and glitters. And, the best part of the cake was a sweet Barbie which was placed in the middle of the cake. It was a lovely cake and I liked it very much.
Supper:
We all had a great supper at her house. There were all kinds of cuisines such as Continental, Chinese, Italian and much more in the list. The dishes were delicious and tasty. I had Chinese as it is my favorite. There were also different kinds of ice creams. There, I found out that ice cream is everyone's favorite. We all had a lot of ice creams of all different flavors.
Return Gift:
Lisa gave everyone return gifts. It was box wrapped with pink wrapping paper decorated with stars and Barbie pictures. Inside the box was a small Barbie diary, Barbie pen, and a cute pink teddy bear. It was a sweet and a compact return gift for the birthday. And, I liked it very much.
Daddy told me that family and friends gatherings are always special. We get a chance to talk, chat and socialize with everyone. This helps us to relax at the end of a busy and hard week. Daddy was right, Lisa's birthday was special to all of us, as we all got a chance to meet each other over the weekend.