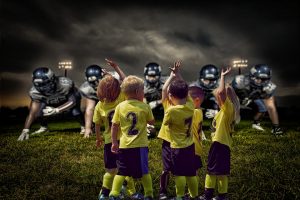 It is said that great achievements come our way when we maintain a good physical and mental state. Games and sports help us to improve physical skills and abilities in an entertaining way. My father says that it is essential for children to take part in some kind of sports for developing our physical strength and mental alertness. During weekends sometimes my father accompanies me for playing badminton. Even I enjoy watching football and cricket match with my father. Our teachers in school say that participating in sports is the best way to get involved in continuous physical activities. They always encourage us to participate in various sports. Various games and sports are organized in our school which helps us to develop important life skills such as teamwork, leadership qualities, and patience.
It Helps to Lead A Happy and Healthy Life
Participating in games and sports helps us in building and improving our confidence level. Being engaged in such activities also protects us from numerous diseases such as diabetes, obesity, arthritis, heart problems etc. So, in order to lead a healthy and active life, we should participate in games and sports regularly from an early stage of life. Games and sports reduce anxiety and create a feeling of happiness. It removes tiredness and lethargy. A person who takes part in these activities develops the courage to face the difficulties of life with much ease. Indoor games like chess, puzzle, sudoku improves concentration level and attention. I play many indoor games. I enjoy playing the games with Naisha, my best friend.
Important Feature of School Curriculum
Games and sports have acquired an important place in school and college curriculum. It provides learners with a diversion and enables them to focus on their lessons well. Learners get necessary breaks from the monotony of everyday life. The various rules of games inculcate a sense of discipline. It develops sportsman spirit by enabling us to deal both victories and defeat with grace. Excelling in sports teaches us the importance of perseverance, hard work, learning from failure and the importance of grasping opportunities.
Games and sports performed by professionals bring national glory. For this reason, all the civilized nations value the importance of games and sports.