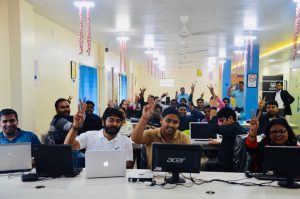 Today, I am going to talk about my Daddy's new office. Daddy has recently opened up a new office building in Bongaon, West Bengal. He says that this office will be able to accommodate about 170 professionals. This is actually Daddy's attempt to bring in employment in the state of West Bengal. Daddy always helps people so that they can lead a better life, always! I love to see how daddy helps people whenever he can. I also want to inherit this aspect from him so that I can also help people whenever I can.
The new office really looks good. It has got huge desks all across the floor along with chairs and computers. I have been there during the office inauguration where all the team members were present there. There was so much warmth in everybody as people were very happy about the new office opening. People were smiling, talking sharing their experience about the kind of work they do. I was very happy to see so many happy faces around.
The office inauguration started with a ribbon cutting, followed by Puja in the office. Daddy addressed the whole crowd and was telling them about his vision in life, how he intends to work for the society and how he wants to grow this office work in terms of adding more people in the team and overall business growth. It was all a great sight at the new office.
I wish Daddy all the very best for all his future endeavours!