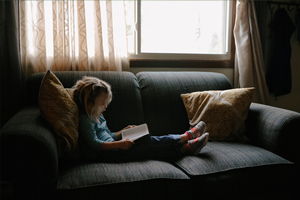 Last weekend, my aunt came to visit us. Mumma and Dada were very excited to have her with us. Mumma told me that she was a friend of both of them and she was visiting us for the first time after I was born. I too was happy and was eager to meet her. When she reached our house, she was very happy to see both Mumma and Dada. Then she came to me and hugged me tight and told me that she was so happy to see me too.
She brought many gifts for me. There were toys, dresses and a lots of story books. I loved all of them. The books were very colourful and full of lovely pictures. I told her that I love picture stories. She toldme that reading books is a very good habit. We get to know a lot of new things when we read books. I told her that I can't read all the words, but I like to listen to stories. My Aunt told me that as I was small I would not be able to read the whole story book. First Mumma and Dada will read out the stories to me before bedtime or when we have some spare time. Then slowly with time, when I grow up I will be able to read the entire story book.
Books are fun. They take us to awhole new world. We get to learn a lot of new things; about people, food, culture and many more. We get to see new perspectives.Reading books enhances our imagination power. We get a lot of knowledge by reading books. Books also help in concentrating and improving our focus. My Aunt also told me that books are the best companions when one is alone.
Post lunch, she read out a story to me – Alice in Wonderland. This is the story of a little girl who dreams of falling down a rabbit hole and getting to explore wonderland. While listening to the story, I also started wondering, how it must have felt when Alice was exploring new places all alone. My aunt told me; when I grow up, I would also go places alone. Exploring new places, meeting new people, new food. Knowing about weather, culture and perspective.Travelling alone is fun.
Now that I am small, I go out to different places with Mumma and Dada. Mumma and Dada both love travelling. They always take me along wherever they go. They guide me through everywhere. Last month we went on a "Giant Causeway Road Trip". It was very much fun.
My Aunt showed me all the other story books she brought for me. They were all very beautiful, full of colourful pictures and conversations. I thanked her for bringing me so many story books. My Mumma came to us and told me that she would read stories to me every day. I was very excited and happy. I thanked Mumma aswell and hugged her tight.