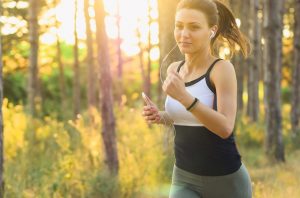 In our school every day we do some exercise and engage ourselves in activities like dancing and playing. Our games teacher always emphasizes on the benefits of exercise for our body as well as our mind.He says regular exercise make our muscles work and help our body to burn calories.
Now, today I am going to tell you about the benefits of exercises which I have learned from my games teacher. My father also tells me about the advantages of exercising regularly. He also follows it himself and encourages me to exercise regularly.
1.  It Makes Us Feel Happy:
Exercises uplift our mood by decreasing anxiety, depression and stress. It creates positivity in our mind and lowers the feeling of pain. Those people who suffer from anxiety, regular exercise has been shown to reduce their symptoms. Exercise provide a powerful impact on our mood and even doing it for a short period of time makes a difference. So we should exercise regularly to boost our mood and fight stress and anxiety.
2. Reduces Obesity:
When we are not engaged in any activity our body becomes obese as it gains weight. Exercises quicken our metabolism and help in burning more calorie.Thus it initiates weight loss and reduces obesity. We should also eat healthy foods to remain fit and fine.
3. Beneficial for Our Bones and Muscles:
Exercise helps to make our muscles and bones strong. It makes us agile and reduces the chances of falling down. Engaging regularly in various exercises and activities help to retain our strength even when we grow old with age.
4. Maintains Our Skin:
To keep our skin healthy we should be engaged in moderate exercise regularly.It increases the blood flow to the body and protects our cells. It improves the elasticity of the skin, hence our skin looks firm and radiant.
5. Increases Brain Function and Boosts Memory:
Our brain function is improved by doing regular exercises.It also boosts our thinking skills and memory. It reduces the chances of diseases like Alzheimer's and schizophrenia. By promoting the flow of blood to the brain, exercise helps in maintaining brain function.
6. Helps Us to Sleep Better:
Exercising regularly induces a good sleep and offers better relaxation. It makes us feel more energetic during the daytime. But it is not good to exercise before going to bed as it can affect our sleep making us feel too energized.
Thus exercises are very much beneficial for our health. I also go for swimming classes on the weekends. It gives me lots of fun as well as helps me to be healthy. Dancing is another physical activity which I love to do. I love to go for dancing and swimming as I get to make many friends there too. Mommy always tells me that before starting any new exercise, we should always visit the doctor for a check-up and take his advice to know that we are fit to do the exercises.