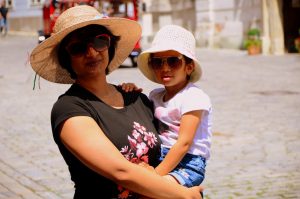 Mothers are the most precious gift of God. No one can love us like the way a mother can. No one can care for us the way she does. She loves us with an open heart and she never wants anything in return from her kids. Today, I am going to tell you all about my mother and the way she supports me and cares for me.
My mother is unique in the world, she is like an angel who always finds a solution for all my problems, however big or small it is. She never cares about her own happiness but always thinks about my happiness first. Mamma always remembers my likes and dislikes and gives me the first priority in her life. She always stands beside me in my good and bad as well.
My mother wakes me up very gently to rise from the bed in the morning. At night before going to bed she tells me all the lovely stories and puts me to sleep.She holds so much of affection for me. She helps me to get ready for school and always cooks the tastiest and healthy food for me. Mummy helps me with my homework and projects which I need to submit at school. She always cares about my health and hygiene. My mother is the first teacher of my life who always teaches precious and valuable lessons in every step of my life. She is also my best friend as nobody can be as real and true like her. Mamma knows everything, she knows the things that make me happy or sad. She wants to see me happy every moment. Mamma always forgives me for my mistakes and she explains me about how not to repeat the same mistake again and again.
Mamma teaches me to behave well with others and not to hurt anybody. She always sacrifices all her wishes for me. I am the most important person in my mother's life. She always teaches me to distinguish between good and bad. When I fall sick, she becomes very anxious and tensed. Mamma is like a lamp who brings lights in my life and removes all the darkness around me. The special bond which exists between me and my mamma can never end. Mamma always prays to God for my well-being. She always gives useful advice and teaches me not to give up ever. Mamma showers all her love and affection and finds joy in my happiness and smiles. She shows the right direction in my life.
It is said that God cannot be everywhere that's why he created mothers. We should also take care of her happiness and desires and we should never hurt or disappoint her.  A mother's love is strong, pure and unconditional which cannot be compared with anything in the world. It is difficult to express a mother's love in words. Those who have a mother are considered to be lucky and blessed.