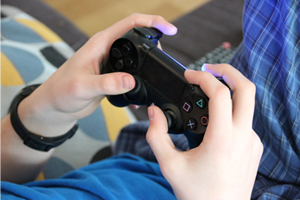 One day, I went to the nearby hospital for my regular vaccination. I met one girl over there. She had some vision problems.The doctor told her that due to extra stress on her eyes, she is having such problems. The doctor told her parents to take good care of her eyes.  He also advised her parents not to let her play video games and watch television for long hours.
I asked Daddy about the doctor's advice to the girl and her parents. So Daddy told me about the various side effects of playing video games and many health issues that children get after being hooked on to the screen.
Less brain development:
Continuous exposure of your eyes to the LED screen for long hours will affect your eyes. This will give you eyestrain and will lead to blurred vision. Eye problems such as myopia can also occur because of this.
Also, too much involvement into video games is bad for the brain growth of the kids. He even added that kids should spend most of their times in playing outdoors.
Playing video games will not let the kids think innovatively. They will remain too engrossed with the game itself. It will eventually result in brain inactiveness.
Affect children's behaviour: There are some video games that affect the behaviour of children and leaves a bad impact on them. Violent video games where there is too much of fighting or killing, make the kids aggressive and adamant.
Addiction to video games: Kids often get addicted to video games. And, this distracts them from doing other activities. It makes them unable to focus on other useful things.
Health problems: Kids who play video games frequently, face health issues like obesity, stomach issues, vision problems and many such problems.
Less workout: Continuous and prolonged exposure to the screen will make the children lazy and they will have almost no physical activities
Less sleep: Playing video games continuously will deprive the kids of getting a good night's sleep. Daddy said that majority of the kids who play video games for many hours a day, don't get sound sleep because of their involvement with the gadgets.
It is the responsibility of parents as well, to keep their children away from gadgets. A child's health should not affect due to any external factors. The parents should also engage their child in various activities so that they don't get bored in their free time. Kids should be involved more with the family and friends to get a happy and healthy life.
After talking to Daddy I understood about the bad effects of playing video games. I thought of other ways to spend my time in other activities which will enhance my power of imagination and creativity. I promised Daddy that from now on, I will not play video games, and rather I would read more books, make paper designs and will write stories and go to the park to play with my friends.