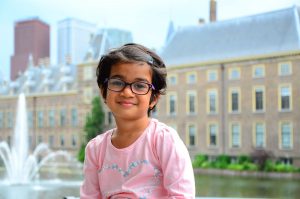 I will always remember the first day of my school. It always gives me a pleasant feeling when I think about my first day at school.It was my Mommy who decided to put me in a school as she thought that I was at the right age of going to school. Though I was afraid enough of going to school, the day ended on a good note.
I went with my Daddy holding his hands tightly as I was anxious about going to a new school. I didn't want to leave my play school. But Daddy told me that I would like the new school. He took me in his car and drove me to the school for the admission. He introduced me to the principal and followed the admission procedure. And, I was enrolled as a student. It was April 5, 2013, I went to school. I felt nervous by seeing the huge building and all the kids around me.
I was taken to my class. I felt alone in that huge classroom among other kids, I was about to cry when somebody patted me from behind and asked, "What's your name baby?" She was a tall lady. She then walked towards the podium, stood there and introduced herself as our class teacher. Then she asked our names and whereabouts and gave each one of us chocolates. Then she wrote the alphabets on the digital board and asked us to read each of them. Some of us stammered because of anxiety. But our teacher made us comfortable within few minutes with the new environment. She made us play letter games, musical chair and much more. After some time, the bell rang and the next teacher came in our class. He taught the numbers and one-digit addition and subtraction.
After three consecutive classes, there was a half an hour break. Mommy had given me snacks in a Barbie tiffin box. As I opened the tiffin box a kid just dashed me and my whole tiffin was on the floor. I caught hold his hand and screamed at him, he quietly said "Sorry" and offered me his tiffin. I refused at first but as he insisted me I ate half of his tiffin. Then we became friends and since then we are the best of friends. We always share our tiffin every day and he always eats most of it.
After recess, we had only two classes where we recited poems, shared our memories and told stories. We also we played hide and seek with our friends after the class. I made many friends that day and they often come to my house and we play together. The first day at my school was so fun full that I was not willing to come back home.
Mommy told me that for every child, the first day of the school is very special and memorable. And I feel proud enough to get a school like this where everybody is kind at heart.