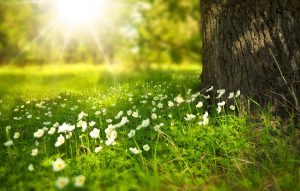 Since the dawn of human civilization, flowers play a vital role in our lives. Flowers are considered as a symbol of love and beauty. It stimulates a feeling of love and happiness and can make the surrounding cheerful. We have a beautiful garden in our home where flowers like rose, jasmine, rhododendron, sunflower etc blooms. My favourite one is jasmine. My father is very passionate about gardening. He takes utmost care of the plants and trees in our garden.
Flowers are popularly used on different types of occasions such as weddings, anniversaries, birthdays, funeral and thanksgiving. Floral arrangements when used in decorations of wedding ceremonies, birthday party or home decor enhances the aesthetic value of the place. Flowers can influence our moods to a great extent. If beautiful flowers are kept in the hospital room of sick patients it can reduce the stress and speed up the recovery. Mamma sometimes keeps a vase filled with fresh flowers in our living room or dining room which creates a comforting atmosphere and enhances the beauty of our home. Research says flowers have healing properties as well. Presence of multi-colored flowers creates a joyful impact on our mind. I like playing and spending quality time in our garden when it is filled with flowers of different colors. While I am depressed or tensed it provides a calming effect on my mind.
Flowers are also used to enhance the beauty of women. Flowers comprises an integral part of cosmetics which are used. Without flowers, the world would have been a dull and dark place to live. Insects such as bees, ants, butterflies, and wasps feed on the nectar of flowers. Flowers are also consumed by human beings. Flowers such as chamomile, mint, Angelica can be used in teas. Many flowers contain medicinal values such as sunflower, calendula for treating sore throats and tonsillitis. The blossoms from basil, lavender, jasmine can be used as spices and herbs for preparing food items. Flowers are also used for garnishing. They can trigger allergies sometimes so one should refrain from eating flowers when suffering from fever.
Thus, we can say flowers offers various benefits to us apart from natural artwork and beauty.