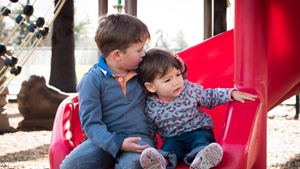 This Friday there was this story telling session at the school. The teacher was telling us all a story about a boy who used to spend most of his time playing video games. He was a lazy, fat boy who never wanted to play any other games outside at the park. He was addicted to playing video games.
After the story was finished, the teacher told us all, that we should not restrict ourselves to playing only video games. Addiction to video games makes us lazy. It damages our eyesight. It makes us interact very less with our friends, family and the people around us.Playing video games all day and not doing enough physical exercise makes us put on a lot of weight and makes us fat. The teacher also said that if we play video games excessively and get addicted to video gaming, it might harm our brain and reduce the level of brain development. I was very scared to know that.
We should go outside whenever possible and play with other children. As we are very small and we may not play any particular games, we should at least be running around with our friends. Playing outside is a way of exercising, which helps us in our overall physical development.
I was very excited to learn this as I am always very eager to grow very strong. The teacher also told us that playing outside increases our muscle strength and also helps us gain a lot of self-confidence. It improves our vision, physical well-being and our overall health. Everyone at my class was happy to know this. We all love playing outside with friends.
I told my teacher that my Mumma and Dada take me to park at the afternoon almost every day when the weather is good. I enjoy playing outside a lot.I enjoy it more when both Mumma and Dada play with me. There are even times when I play with my friends and the parents talk to each other. I like the fresh air outside. My teacher was happy to know this from me and she encouraged me to play more outdoors and at the park.
When I came back home from school, I told Mumma about the story that our teacher told us at the school. I also told her about what the teacher told us about the reduced level of brain development. Mumma told me that this is why both by Mumma and Dada do not let me play too much with the phone or the tab. I asked Mumma, why she always thinks well about me. She told me that because I am her daughter and she loves me the most in this world, she cares for me the most. So, she does everything which is good for me. She does things which would help me in the long run when I grow up. I hugged Mumma and told her that I also love her the most.