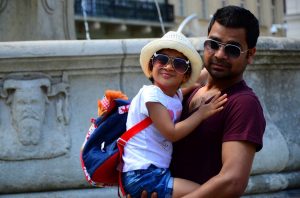 Daddy loves to travel. He is passionate about traveling to faraway places. He loves to explore new country sides, local cuisines, and meet new people. Daddy tells me that I am his favorite travel companion. I love to hear that as much as I love to travel with Daddy. Traveling with Daddy is fun. He takes care of every small little things to make sure our journey is comfortable as well as exciting. He starts planning every trip in advance so that he gets enough time to make all the arrangements such as flight bookings, hotel bookings, car hire and many more. He also checks out about all the good restaurants which serve all the delicious local dishes along with offering a beautiful ambience. Daddy is a lover of great food from across various places. He also tells me that, food tastes better in a beautiful and lovely ambience. He always encourages me to try out new dishes. I love that. I love to be my Daddy's favorite companion everywhere.
This time we will be traveling to Slovakia, a small country in the central Europe. This is a father's day special trip. Daddy has told me endless stories about this country, about its beautiful mountainous landscape in the past. This time, we finally planned a trip. He showed me a few breathtakingly beautiful pictures of Slovakia on Google. The country is adorned with magnificent castles and awe-inspiring mountains. I immediately fell in love with that place.
We made a list of the places to visit; starting with Bratislava, which is the capital city of Slovakia. We decided on visiting some eateries overseeing the river Danube. Daddy always prefers to have a resplendent atmosphere while savoring great food.I also like it. I guess, Daddy and I have a lot in common. After all, I am his daughter. We will visit the magnificent Spis Castle, situated in eastern Slovakia. Spis Castle is one of the biggest castles in Europe and is one of the World Heritage Sites declared by UNESCO.Daddy tells me that I will love to see this spectacular castle and I am very excited about it. We will also go to the Tatras National park which is located in the resplendent Tatra Mountains. I just can't wait to see these places. I am so thrilled about this trip.
I started packing for this trip. I will have to carry all the things which I will require during this tour. I will also be very careful about not over stuffing my bags with things which will not require in the next few days.I am happy to say that Father's Day celebrations couldn't have gotten any better. Thanks to Daddy for planning this awesome trip with me and making so much of arrangements to make sure everything is in place when we set out for Slovakia. I just can't wait any longer to start exploring this new place. I love Daddy for being the best Daddy in the world.