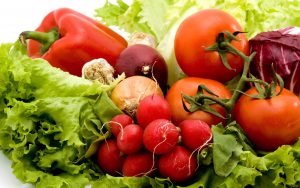 Mamma always focuses on eating the right food. She tells me about the importance of eating real fresh foods for staying healthy and strong. In our school, our teacher Miss Lydia explains the benefits of eating vegetables and advises us to minimise the consumption of sugary snacks, oily food, and processed food. Eating more vegetables replacing oily and junk food helps in weight management. Vegetables provide a rich source of nutrients to our body. In our home, mamma makes sure that we all eat vegetables regularly to build a strong immunity and protect ourselves from various diseases. It is important to include vegetables in our daily diet to remain healthy.
Vegetables contain nutrients such as vitamins, minerals, fiber, phytochemicals and these provide resistance to disease naturally. Today I'm going to discuss some of the benefits of eating vegetables:
Increases Immunity:
Regularly eating vegetables enhances the immunity of our body. It reduces the chances of diseases like Arthritis, Stroke, Heart diseases and many other serious complications. The nutrients present in vegetables maintain the health of our body at a regular pace.
Helps In Weight Management:
Vegetables help in weight management. Eating a bowl full of vegetables is good for the health and it contains dietary fibre. Fibres help in maintaining a proper digestive system and aiding in bowel movement.
Anti-Aging Properties:
Eating vegetables daily ensures a younger look and healthy body. Vegetables contain anti-ageing properties make us look younger and delays those unwanted signs of ageing.
Regularize Digestive System:
Vegetables contain fibers which regularize the digestive system, helps in normal bowel movement, flushes out the bad cholesterol and harmful carcinogenic substances out of the body. It maintains our normal appetite throughout the day. Thus we can stay physically and mentally healthy and fresh.
Reduce Stress and Anxiety:
Vegetables contain tension reducing omega 3 fatty acids and vitamin B which helps to fight anxiety and depression. Some vegetables contain potassium and magnesium which helps us to calm from inside as they help to reduce the blood pressure.
Reduces Risk of Diabetes:
Including more green and leafy vegetables to your diet reduces the chances of developing type 2 diabetes.
Takes Care of Eyesight:
Dark leafy green vegetables such as Spinach, Broccoli, Green beans, Brussels sprouts, Beetroot decrease the risk of eye-related problems.
Mamma says that vegetables reduce the risk of any unwanted disease in the future. Mamma makes various tasty and delicious dishes with vegetables. She makes pasta, noodles, pizza, sandwiches with vegetables. Sometimes she makes salads with different coloured vegetables and it looks very beautiful. Previously I used to dislike vegetables but now after learning about the benefits of vegetables from mamma and our teacher as well as my doctor uncle, I make sure to eat vegetables daily.