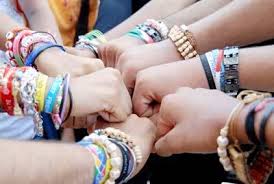 This weekend, we have celebrated friendship day in my house. I was very excited about the celebrations. I made a lot of preparations for this. My Daddy and Mommy had also helped me a lot.  I had decided about the games, we would play and also made a list of the songs we would dance on. I had called everyone in my class for the celebrations. I had made friendship bands for all of them. For the boys, I made Batman friendship bands and for the girls, I made a Barbie friendship bands. I also made cards for all of them, as I thought that it will be the best way to express and extend my friendship to them.
Friendship bands: I made colourful friendship bands for them with a sponge and made the skeletal face of the batman and then painted it with black colour. And for girls, I made a skeletal face of Barbie and painted it with pinkish white. The bands turned out to be cute. All my friends liked the bands very much.
Friendship Cards: I made friendship cards for all them by using glitters, colour sketch pens, and watercolours. I made small envelopes for each card. When my friends arrived, I gave them the cards. They all liked the cards I made for them. Some of them also brought friendship cards for me. I was really glad to get those.
Games: We all were divided into two groups to play "tug of war". We played for three rounds and the score was 2:1 and we won the match. We all played a lot of other games as well. We all danced for some time. Each one of us was happy, there was so much cheerfulness all around. We were very tired at the end of it all.
Cake: Mommy-Daddy gave us all a surprise with a big cake which both my parents had baked together during the day without my notice. Daddy wrote "Happy friendship day" on it. We all were happy to see the cake and then Daddy helped us to cut the cake. We all ate the yummy cake made by my parents.
Supper: Mommy and Daddy made different kinds of dishes such as burger, French fries, noodles, pizza, and pasta. We all liked the food made by Mommy and daddy.There were juice and ice creams too. All my friends loved the food.
The party ended well, and we all were very happy with the celebration of our friendship day. It was great to meet all my class friends over the weekend and play games with all of them. It was another gathering of friends after Lisa's birthday party and we all enjoyed a lot. Daddy told me that friends are always special and celebrating friendship day makes all the friends closer to each other. I told Daddy that without his support I couldn't have done anything. I am lucky to have such wonderful parents who always support me with everything.