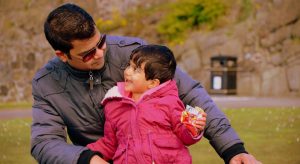 A father is a person who guides, loves and cares for his child in every step of life. For his children, he acts like a pillar of support and strength. Today, I will tell you all about my father and the way he extends his support and love in my life.
My father is the real hero of my life who always tells me to choose the right path. He always explains me about various situations and the consequences of my actions. He is an ideal person in my life and my best friend ever. Every time I face some difficulties, he helps me to find a solution.
My father wants me to be a good and successful person in my life by following ethics, humanity, and etiquette. He teaches me how to be healthy, fit, happy, and a peaceful person all through my life. Daddy is very helpful and compassionate towards the needy people in the society. He is very loving and a dutiful person towards our family and elders. He tells me inspiring stories to become successful and inspires me never to give up. When he is free at home he plays cricket and badminton with me and also helps me with my studies and homework. My father always takes care of my likes and dislikes. He also supports my mamma in the kitchen and can make delicious food. He teaches me to always love, care and respect others. He tells me about the importance of ethics and good habits in a person's life. He shares his struggles and experiences of life with me. I am very much thankful to God to have been blessed with such a lovely father.
My father always teaches me to be patient and hardworking. He says that one should always keep faith in himself and not to be depressed and disheartened if ever failure comes. Whenever I am in a bad mood he always cheers me up and motivates me. He wants to see me as a good human being. He insists me to eat healthy foods such as all types of vegetables and fruits as these foods contain vitamins and minerals which are essential for our growth and development. He teaches and inspires me to learn new things. He is the most gracious person I have ever seen, my father teaches me to distinguish between the right and the wrong. He is like a true friend with whom I can discuss all my problems and my happiness without any hesitation.
Daddyis smart, intelligent, fun loving and brings smile to every body's face around him. He says that our experiences help us to broaden our horizons and acquire knowledge and wisdom. My father says that the way to achieve success is to be disciplined and have confidence in one's ownself. His guidance and support help me a lot in every walk of my life.I love Daddy so much for always being there for me.