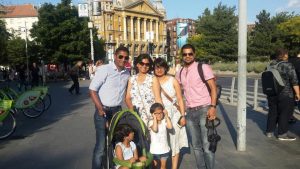 This weekend my uncle and aunt came to our house. My Mummy and Daddy were very excited about having them over. I was also tasked with settling the house and the fresh flowers in the hall. I was also very happy about seeing my Aunty and Uncle after so many days. Both my parents were busy cooking many dishes.Mummy was telling me about the good times they had spent together whenever they got a chance to meet. I always took interest in listening to stories about the past and knowing about the various activities they used to do together. It is always fun to have so many people in the family. I also love the family time, when everybody sits together, talks, jokes and laugh about all the small little things in life.
This time also, I was expecting such a lovely time with them. Hey, have I mentioned that my cousin Tina, would also come with them. I love playing with her. She tells me many exciting stories about her friends, her school. I always like to hear about all this. Tina is three years older than me and I like to spend time with her. One great thing about her is that she also listens to what I say. She always gives importance to my likes, my preferences about things. She is very understanding. I was really happy to see them and excited about spending the entire weekend with them.
When they finally came to our house, both Mummy and Daddy greeted them with so much of happiness and warmth. My Uncle and Aunty hugged me tight and told me that they missed me so much. And, then Tina came to me. She also hugged me and told me about how happy she was to see me again. Then we all sat for lunch together. Here was so much of happiness around. My house was buzzing with laughter and giggles. There was so much warmth in it.
They also brought a lot of presents for all of us. I got quite a few books, dresses, toys etc. I was happy to be in their company. I took Tina to my room. She told me that my room was so neatly settled. I liked the compliment and told her that Mummy always tells me to keep my room neat and tidy as she is so very particular about keeping the house clean. Then we sat as usual and got busy in exchanging the stories we both wanted to share for so long.
The whole weekend went so nicely. We all had made so many happy memories together. We went out for shopping, dinner, came back home late, sat together, kept gossiping till late. It was so much fun to have them around. I felt so bad when they all were leaving our place. I told them to visit us again as I would miss them so much. Daddy told me that, soon we will also visit them and this made me a little happy. I really love spending time with family.