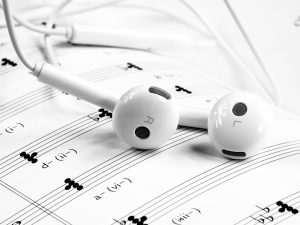 My mamma and daddy are very much fond of music. They say music is a god gifted tool for leading a healthy life. Music acts as a meditation and benefits us in many ways if we listen to it on a daily basis. Listening to music in our spare time provides enjoyment and relief to the mind. In my school, music classes are conducted and I enjoy a lot attending these classes. Our music teacher Miss Dorothy says music can help us to get rid of any kind of mental or emotional problem in our life. During Sunday, my daddy plays lovely music in the house and we do our work while listening to it. He says musical melody triggers loads of positive thoughts in our mind and it creates good memories Thus, music provides a great relief by making us happy.
Music touches our heart in the most unusual ways while nurturing, comforting, soothing and strengthening us against the dark. Today let us discuss the role of music in our life:
Music Enhances Our Visual And Communication Skills:
Research shows that taking music lessons at an early age stimulates the child's brain in a lot of ways. It enhances his visual, verbal and communication skills. Music helps to build bridges and connect people with different cultures since early ages of human life.
Music Keeps Our Brain Healthy:
Playing music and listening to it helps to keep our brain healthy especially as we grow older. It acts as an exercise of the brain and helps us to learn and recall information better. Music improves the overall quality of our life by reducing stress and anxiety, lifting our mood and boosting our health.
Music Makes Us Feel Happy:
It has been proved through studies that listening to music which touches us in a special way causes our brain to release dopamine which makes us 'feel-good'. When we listen to music of our likings we experience an increased feeling of happiness, excitement, and joy.
Music Help Us To Perform Better In Academics:
If we are exposed to music or the learning of an instrument since childhood, it improves our concentration level and helps us to perform better in everything we do in our life. Taking musical lessons help young children improve their academic performance and build a strong IQ level compared to others who do not.
Music is used to ease stress, soothe pain and promote a better sleep pattern. Mamma often says that music is like oxygen which makes her healthy, happy and motivates us to do better in life. I also feel good when I listen to music. I tell my friends too so that they also enjoy the essence of music in their life. I always want to be happy and keep my friends happy too. And, I am sure that music can help all of us in building a positive attitude towards life and enjoy the life to the fullest.