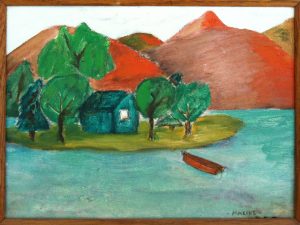 When I was small I used to see my father paint on huge canvas papers. At the beginning, I couldn't understand what he used to scribble on the white papers but gradually as I grew up, I started to learn that my father paints. Though he is not a professional artist but Daddy tells me that he paints because painting is his passion. At first, I didn't like the colours but my intense bond with my Daddy made me love the colours, the white papers, the brushes, the pallet and other stuff.
Our store room was at a corner of the backyard.One day, I suddenly thought of going there to see my dad's paintings. As soon as I entered the room I was dumbstruck to see all the arrangements. It was like a heaven around there. The paintings were all over the walls. Some were coloured in blue, some in black, somewhere multicoloured and much more. The pictures were so appealing and heart soothing that I felt like staying there for the whole day. I was looking for a white page when suddenly I got clashed with the colour bottles and the colours splashed over his drawings. I got so tensed that I started crying. Soon my father came into the room and he started to console me. He was not upset that I splashed colours on the canvases but was happy that I entered the room to see his work. That weekend he brought me a new set of colours, pallets, and brushes. He also told me that he would not mind if I didn't like to paint.
I sat at one corner of the room and started to scribble on the sheet of paper. I sat for almost two hours but couldn't do anything other than the haphazard lines that I drew. I messed up the paper and made it the untidiest one. I was upset that I couldn't make something like my daddy. I went to Daddy and showed him my painting, though I knew that it was the worst painting but for my daddy, it was the best painting forever. He told me that he loved it so much and later he framed it and stuck it on one of the walls of his studio. I was overwhelmed with joy that my painting was stuck on the walls. That was the first day when I started my painting. Those lines were the best lines in my life because of Daddy who made it so special. His encouragement uplifted me and made me love this art form.
I am proud to have a Daddy like him, who supported me, encouraged my paintings and never forced me to follow his style of paintings. He always tells me that, just follow what your heart suggests you do. The more you will love to paint the fast you will get to know about your environment. Daddy tells me to paint my heart out. This will give me peace.His golden words touched my heart and now I paint anytime whenever I feel like.